For years Google has been the most popular website in the world, but the dominant search engine now faces a new challenger.
In late 2022 OpenAI released ChatGPT, a free chatbot that can generate a rapid-fire response to almost any question. ChatGPT captured the public's attention, and millions of users have since used the service for everything from generating software code, doing their homework or even writing whimsical poetry.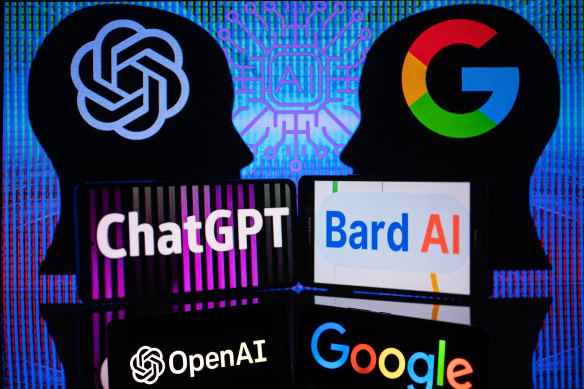 Microsoft and Google are going head-to-head on their AI platforms.Credit:Getty Images
Generative artificial intelligence (AI) is a technology that uses machine learning to create new content, based on simple instructions. ChatGPT is one example of text-to-text Generative AI, but there is also text-to-image, text or image-to-video, text-to-music and numerous other projects. It's starting to look like 2023 may be the year when AI goes mainstream.
Companies like ABB, NVIDIA and Dynatrace are already developing AI applications to make industries like healthcare, education and manufacturing more efficient and responsive. Many of us have already interacted with an AI-driven chat function on the website of an online retailer, airline or bank. It can sometimes be a frustrating experience, but the next generation of AI, like ChatGPT, offers a deeper level of interaction and wider range of use cases.
Further, AI requires large amounts of data to be processed and high-performance hardware to train models. Digital data is currently growing at 60 per cent per annum, fuelling massive demand for cloud computing. New AI-driven applications and services will solidify that growth. For example, Microsoft is investing US$10 billion into OpenAI to enhance its Azure Cloud business, as well as its Bing search engine. As part of this investment, Microsoft customers will be able to use the OpenAI products in their own Azure-hosted applications, and OpenAI will be able to utilise the Azure cloud computing platform to accelerate the development of ChatGPT and DALL-E models.
While there are many benefits that AI offers a range of industries – there are other ripples that present risks. Cybersecurity is one of these areas. The generation of grammatically correct, human-like written text by AI applications can be used to make social engineering attacks such as phishing or business email compromise scams harder to detect and easier to pull off.
"We're going to be playing defence against things like ChatGPT for quite a while. It's inconceivable to me that the bad guys won't start using generative AI to generate very high yielding [phishing] lures at scale," says Dr. Robert Blumofe, technology officer at the cloud computing company Akamai.
As a result, corporate cybersecurity budgets will continue to rise. As part of this trend, Gartner expects information security spending to reach $187 billion as companies increase their outlay, including on AI-augmented security tools, to ward off new cyberattack techniques.
While recent developments might seem like a modern-day leap forward akin to the moon landings, it's obvious there is a lot more potential for disruption and structural change to come. So, how can investors best position themselves for this structural change?
Growth in expenditure on AI, cloud and cybersecurity provides a strong earnings tailwind for the leading companies in these sectors. When looking for these sector leaders, the structural change driven by recent developments in AI is a worldwide phenomenon, so investors should think global as AI, cloud and cybersecurity are not well represented on the ASX.
Further, stock-specific risk can be greater in an emerging sector with rapid technological advancement, and it's often much harder to pick individual company winners. As a result, investors looking at these sectors should consider a well-constructed and diversified basket of leading global companies.
And, if you're using ChatGPT already, be aware that the current version sometimes produces very articulate but quite incorrect responses. It is indeed a very useful tool, but don't accept its output as gospel just yet.
Advice given in this article is general in nature and is not intended to influence readers' decisions about investing or financial products. Investors should always seek their own professional advice that takes into account their own personal circumstances before making any financial decisions.
Cameron Gleeson is a senior investment strategist at exchange-traded funds provider Betashares.
The Money with Jess newsletter helps you budget, earn, invest and enjoy your money. Sign up to get it every Sunday.
Most Viewed in Money
From our partners
Source: Read Full Article