If you want to see how Donald Trump has talked a much better financial game than he played, all you need to do is examine the numbers behind his fall from the Forbes ranking of the 400 richest Americans.
Trump this week was dropped from the Forbes 400 list for the first time in 25 years. According to Forbes, Trump is worth $US2.5 billion ($3.4 billion), the same as last year, when he ranked 339th on the list. While many other players have added substantially to their wealth, Forbes says Trump's wealth has stayed stagnant.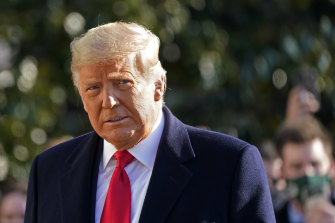 While many of his peers have seen their wealth skyrocket during the pandemic, Donald Trump's has stayed stagnant.Credit:AP
This just confirms what any number of journalists, including me, have written for years: Trump, who inherited lots of money from his father, really isn't a very good businessman.
It's well known, especially among those of us who worked at Forbes, where I was a senior editor from 1984 to 1988, that being on the Rich List was hugely important to Trump. He used to endlessly lobby – and occasionally bully – the staffers who assembled the list, trying to get them to move his net worth number up.
Trump probably hasn't been a successful businessman for at least a decade. And before that, he presided over six Chapter 11 bankruptcies, mostly in the casinos that he bought (and mismanaged) in New Jersey.
On Forbes' 2011 Rich List, Trump was listed as having a net worth of $US2.9 billion – which is $US400 million more than Forbes says he's worth now. Adjusted for inflation, that $US2.9 billion is worth more than $US3.5 billion in current dollars. That's something over $US1 billion more than Forbes says he's worth now.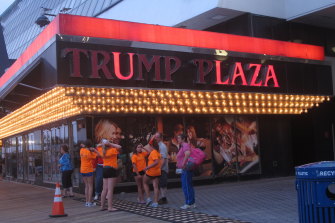 Trump presided over six Chapter 11 bankruptcies, mostly in the casinos that he bought in New Jersey.Credit:AP
When Trump became president, he could have sold his properties and avoided capital gains taxes by getting a ruling that he was eligible for a special tax break available to government employees who sell assets to avoid conflicts.
If Trump's assets were really worth $US3.1 billion – that's Forbes' number – and he sold them for that amount and put the proceeds into an S&P 500 index fund, he'd currently be worth more than $US6 billion. Which is way more than double what Forbes says he's worth.
When I worked at Forbes, I was sceptical about many of the Rich List numbers, possibly because I saw colleagues struggling to come up with anything resembling reliable numbers. I'm even more sceptical of these numbers now.
Except for publicly traded securities, it's very difficult to figure out what a zillionaire's assets are worth. Good luck on trying to find out what someone like Bill Gates or Jeff Bezos owns other than their stock in Microsoft and Amazon.
As I write this, Trump hasn't yet reacted publicly to Forbes ousting him from its Rich List. I'm sure whatever he has to say would be pretty funny to those of us who dealt with his nonsensical numbers for years.
In any event, I'm glad to see that the folks at Forbes are doing what they think is the right thing. And they aren't doing what I'm sure Trump would have wanted them to do.
The Washington Post
The Business Briefing newsletter delivers major stories, exclusive coverage and expert opinion. Sign up to get it every weekday morning.
Most Viewed in Business
From our partners
Source: Read Full Article