Official interest rates have been virtually zero for 15 months but, as the economy rebounds after the pandemic's turmoil, it's only a matter of time before they rise. That poses a big question for home borrowers: how high will rates go?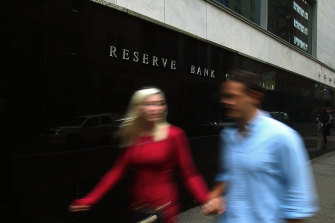 Forecasters expect the Reserve Bank to start lifting interest rates later this year Credit:Ben Rushton
Most forecasters expect the Reserve Bank to start lifting its benchmark cash rate from the current rock-bottom 0.1 per cent in the second half of this year. Because mortgage rates follow that RBA yardstick, borrowers will be paying more to service a home loan with each increase.
Economists describe a phase of interest rate increases as a "tightening cycle." The last one began in 2009 following the global financial crisis; the cash rate climbed by 1.75 percentage points – from 3 per cent to 4.75 per cent – over a period of 13 months.
Should that tightening cycle be repeated it would push the average owner-occupier variable interest rate to around 4.7 per cent, adding $500 per month to repayments on a $500,000 home loan, according to financial comparison website finder.com. Fixed rate borrowers will initially be shielded from higher repayments. But many fixed loan deals will expire during the next 18 months and those borrowers will need to roll over to a higher fixed rate or switch to variable.
History may not be repeated, of course. There are two other places to look for guidance on the future of interest rates: financial markets and economic forecasters.
Contracts traded on money markets which predict the level of the RBA cash rate suggest investors anticipate a sharp increase in official rates. They currently foresee a rise of around 2.8 percentage points over the next 18 months.
But some prominent forecasters believe the high level of household debt will force the Reserve to be more restrained than that. Debt as a share of household income has risen sharply since the last tightening cycle, now more than a decade ago, and that has made borrowers more sensitive to interest rate hikes. Small increases are now far more potent than in the past.
Commonwealth Bank economist Garth Aird expects the cash rate to climb to only 1.25 per cent by the first quarter of next year before pausing. Aird estimates that relatively small increase in rates will be enough to lift mortgage repayments as a share of household disposable income to 15.5 per cent, which is the average of the past 20 years.
"As soon as the cash rate goes up the interest paid on the overall stock of household debt goes up very quickly," he said.
According to CBA, a rise of more than 2.5 per cent – in line with financial market pricing – would be "deeply contractionary" for the economy, and would result in mortgage payments as a share of household disposable income rising to a record high.
AMP chief economist Shane Oliver thinks interest rates will reach a "short-term high" at 1.5 per cent next year.
"By that stage I think we'll see quite a significant pull-back in house prices and, hopefully, a lot of the current supply constraints will have started to abate, taking some pressure off inflation," he said. Dr Oliver thinks the rate rises anticipated over the next 18 months could even be followed by a modest rate reduction in 2024.
But, as usual, there is a wide range of views among forecasters about the future of interest rates. When the recent Sydney Morning Herald/The Age Scope survey asked 20 economists from business and academia at what level the official cash rate would peak the responses varied from 1.5 percentage points over the next 18 months to a hefty 8 percentage points increase over five years.
Mr Aird said government spending decisions, including Tuesday's federal budget, will play an important role in determining how far interest rates rise. Additional public spending could stoke consumer demand and put further upward pressure on inflation which, in turn, could force the Reserve Bank to lift rates more than would otherwise have been the case.
"Looser fiscal policy than we currently anticipate increases the probability that the RBA takes the cash rate to a contractionary setting," said Aird.
There's always a chance both investors and forecasters will be off target. Earlier this month Reserve Bank governor Philip Lowe emphasised the high level of economic uncertainty at the moment including the ongoing effects of COVID-19 and the Ukraine war which poses "a new major risk to the global economy".
Most Viewed in Business
From our partners
Source: Read Full Article