A series of islands shaped like a giant palm tree jutting out into the Gulf might not seem the most obvious hideaway if you are aiming to dodge the limelight.
Home to the likes of David and Victoria Beckham, who own a seven-bedroom mansion among its artificial fronds, Dubai's Palm Jumeirah has typically been a magnet for the more ostentatious members of the global elite.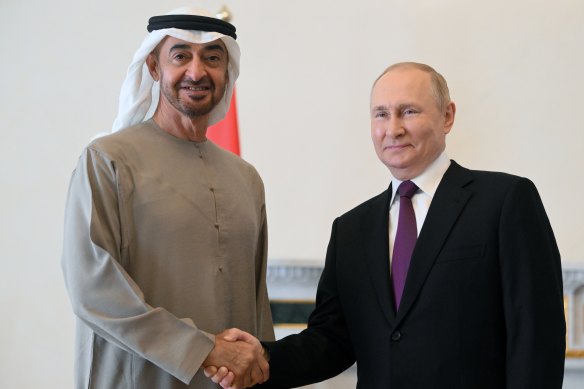 UAE ruler Sheikh Mohammed Bin Zayed Al Nahyan, with Vladimir Putin, said trade with Russia has doubled to $US5 billion over the previous three years, adding that there are about 4,000 companies with Russian roots working in the Gulf state.Credit:AP
However, this exclusive location could soon be home to another man who made his name in English football: Roman Abramovich.
The former Chelsea owner was reported to be house-hunting along Palm Jumeirah in recent months after being sanctioned for his links to Vladimir Putin.
Abramovich is not alone in seeking sanctuary in the United Arab Emirates (UAE) following Russia's war in Ukraine.
Russian nationals have emerged as the biggest foreign buyers of property in Dubai after the region became a refuge for those fleeing sanctions.
Now, there are growing concerns that the desert oasis is providing financial sanctuary to oligarchs and becoming a gatekeeper for cash from Moscow, potentially thwarting efforts to isolate Putin's regime.
Those fears were heightened last week when it emerged that the UAE central bank handed MTS Bank, a Russian lender, a banking licence.
MTS is a unit of Russian telecoms giant Mobile TeleSystems, which was controlled by billionaire oligarch Vladimir Yevtushenkov before Russia's invasion was launched last year. The tycoon has since been sanctioned by the UK.
Officials briefed that the decision would meet growing demand from Russian expats in the Gulf state who would like to access their home country's banking market. The bank is to open a physical branch in Dubai pending approval from the Russian central bank.
Russian billionaires and entrepreneurs have been flocking to the UAE.Credit:iStock
It comes after Sberbank was forced to shut its offices in Abu Dhabi at the end of last year owing to sanctions.
The UAE has refused to follow the Western sanctions regime imposed on Russians with links to the Kremlin, making it essentially a safe haven.
These warm ties have been a boon to the Emarati economy in recent years. In October, at a meeting with Putin in Saint Petersburg, UAE ruler Sheikh Mohammed Bin Zayed Al Nahyan said trade between the two countries has doubled to $US5 billion ($7.2 billion) over the previous three years, adding that there are about 4,000 companies with Russian roots working in the Gulf state.
Valentina Matvienko, a senior Russian politician, also noted last October that the UAE is the top Arab destination for Russian investments and is the largest Arab investor in Russia.
Therefore it is little surprise that Russians have sought refuge in the UAE. In the wake of the Ukraine war, many super-rich Russians faced asset seizures in other cities such as New York, London and Paris and were left with few other places to go.
The interest in Dubai resulted in a huge surge in relocations last year, with property broker Betterhomes reporting that Russians are now the biggest group of non-resident buyers.
In 2022, they accounted for 15 per cent of transactions at the company, ahead of Britons at 12 per cent, Indians with 11 per cent, Italians 7 per cent and French 4 per cent.
Dubai registered more than 86,000 residential sales transactions overall last year, surpassing a previous record of 80,000 in 2009, according to the firm. About 208 billion dirhams ($81 billion) worth of property was sold last year, an almost 80 per cent gain compared to 2021, while prices rose 11 per cent.
Russian oligarch and former Chelsea owner Roman Abramovich, is among those seeking sanctuary in the UAE.Credit:AP
Tamara Getigezheva, chief executive of Mira Estate, luxury real estate company in Dubai, said: "The war in Ukraine and the impact of sanctions on Russian-speaking individuals and their establishments have led wealthy investors to flee their countries and find a haven in Dubai.
"[Russian] billionaires and entrepreneurs have been flocking to the UAE in record numbers, leading to a surge in demand for real estate. Most homebuyers are looking for ready units and waterfront properties."
However, the UAE's willingness to embrace Russian money is beginning to cause alarm in the West.
Earlier this month, Brian Nelson, US Treasury under-secretary for terrorism and financial intelligence, said the US was determined to aggressively enforce Russian sanctions in "permissive jurisdictions" which are continuing to do business with Russian entities.
On a visit to the region in recent weeks, Nelson raised the issue of the MTS banking licence and despite the bank not being subject to sanctions, he expressed concerns about "financial connectivity with Russia, even via non-sanctioned banks", the Financial Times reported.
Despite Nelson's remarks, the White House appears to have taken a softer approach in forcing the UAE to crack down on Russia amid a wider Western demand for oil.
Last July, after a meeting between President Joe Biden and the UAE's Sheikh Mohammed in Saudi Arabia, a joint statement said: "President Biden recognised the UAE's efforts to strengthen its policies and enforcement mechanisms in the fight against financial crimes and illicit money flows."
Calls from campaigners to blacklist the UAE have so far fallen on deaf ears. Oligarchs including Vladimir Potanin, one of Russia's richest men, have docked their super-yachts in Dubai while the state has become a popular destination for Russian tourists struggling to access other countries. Abramovich's private jet has also been grounded in the state for months.
Whether Abramovich and the Beckhams become neighbours again – they both have owned prime real estate in west London – remains to be seen.
But the UAE's attempt to court wealthy Russians and their money shows no signs of slowing down. And at present, the West seems reluctant or powerless to do anything about it.
Telegraph, London
The Business Briefing newsletter delivers major stories, exclusive coverage and expert opinion. Sign up to get it every weekday morning.
Most Viewed in Business
From our partners
Source: Read Full Article