Save articles for later
Add articles to your saved list and come back to them any time.
KPMG boss Andrew Yates publicly rebuked PwC for the tax scandal that is impacting the entire multibillion-dollar financial consulting industry while apologising for his firm's own failings, which include 1000 staff cheating on an exam about acting with integrity in their work.
Yates told a Senate committee on Wednesday that it was essential that government can have absolute trust in the private sector companies it works with.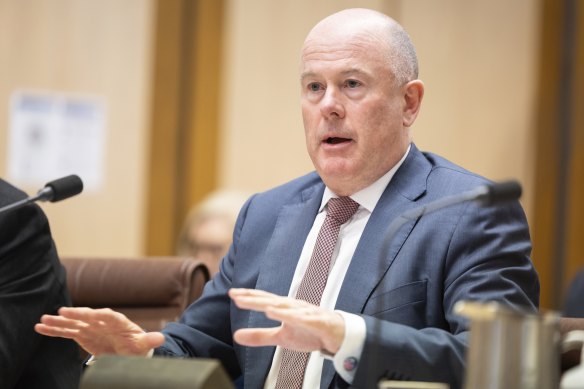 Andrew Yates, KPMG Australia CEO, said the PwC tax leaks scandal was "disturbing".Credit: Alex Ellinghausen
"That's why the PwC issue is so disturbing. Based on the findings of the Tax Practitioners Board, and the more recent revelations from Senate estimates, the conduct at PwC was clearly unethical and unacceptable," he said.
Yates emphasised that KPMG did not use legal professional privilege inappropriately – a reference to PwC's use of this legal device to stonewall investigations into the tax scandal for years.
Yates also contends that based on the information made public about the PwC tax scandal – where partners attempted to win business from confidential government plans to combat tax avoidance – KPMG would have released the names of any staff implicated.
"There would have been strong action taken by our chairman and board, and subject to any legalities that I'm unaware of, the names would have been shared," he told the committee.
KPMG is also offering solutions to ensure the integrity of these big firms, which are integral to the audit work needed by the Commonwealth and corporate sectors. This includes bolstering the voluntary code – that ensures governance and best practice principles – into law, and potentially giving the corporate regulator oversight of the profession.
"We are open to what this would look like and would work constructively with government and regulators on this matter," he said.
Yates also announced that, with the government now committing to rebuild the capabilities of the public service, KPMG would not participate in labour-hire work in the future – this work effectively outsourced government jobs to the private sector at a cost of billions of dollars.
But KPMG faced questions from the Senate committee about its own scandals, including the exam cheating that led to the departure of two partners from the firm.
"It's an incredibly painful issue for us and has been very damaging reputationally, there's no denying that," he told the committee.
"This was an awful, unacceptable thing, but it was a breach of internal code of conduct," he said. "We felt that the remedies we applied or the sanctions that were applied, were appropriate."
The firm also offered a mea culpa for its role in the NSW Transport Asset Holding Entity (TAHE) debacle. TAHE was set up in 2015 to hide the costs of the state's railways by shifting billions of dollars of expenses off the state budget and into the new entity.
KPMG was paid millions of dollars for conflicting advice to two separate government departments relating to the TAHE: Transport NSW and NSW Treasury.
"We were in a complex situation. And the way that we would talk about that, is that we focus purely on the real conflict, 'were the two scopes of work operating independently of one another?' And they were," he said.
"I'll say, again, we got it wrong. In terms of how we thought about that."
The Business Briefing newsletter delivers major stories, exclusive coverage and expert opinion. Sign up to get it every weekday morning.
Most Viewed in Business
From our partners
Source: Read Full Article