The dramatic jump in inflation, which has already hit an annual rate of 5.1 per cent and will likely rise further, is a huge shock to the economy, but not all Australians face the same pressures. Some businesses are certainly struggling because they cannot pass on to their customers the higher costs of inputs, but others like the energy sector and some agribusinesses are earning huge profits from record high prices. Meanwhile, workers in multi-year enterprise bargaining deals are losing out while others in hot demand could get huge pay rises.
Inevitably there will be winners and losers. But The Age believes that the Fair Work Commission has made the right call by its decision on Wednesday to protect the most vulnerable workers from an excessive drop in the buying power of their wages.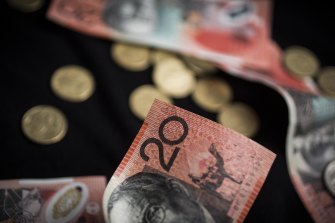 The Fair Work Commission has awarded a pay rise to Australia's lowest-paid workers.Credit:Dominic Lorrimer
The commission in its minimum wage case decision on Wednesday awarded a pay rise of 5.2 per cent to 180,000 of the lowest-paid workers, lifting their weekly wage by $21.38 to $812.60. About 3 million other workers whose wages are linked to the minimum wage via the awards system will receive rises of at least 4.6 per cent.
The decision will help thousands of households pay their energy bills, put food on the table and keep their heads above water.
Prime Minister Anthony Albanese, who promised during the election campaign to lobby the commission for a big rise this year, says he is "delighted" with the decision. Australia's lowest-paid workers deserved this pay rise and the predictable response from some sections of the business community does not stand up to scrutiny.
There is certainly room to question the specific calculations behind the decision. Businesses said for example that workers did not need such a big pay rise because they had received the $250 "cost-of-living" payment in the March budget.
Usually, businesses argue that if they are forced to pay higher wages they will have to cut staff and unemployment will rise. Yet the current state of the economy undercuts this classic argument against raising minimum wages, as unemployment has fallen to a historic low of 3.9 per cent and businesses are desperate to find staff.
Moreover, as the commission pointed out in its decision, in general, companies – especially larger ones – are making strong profits and they can afford to share them with workers.
Just to be sure, the commission has issued an unusually complex decision which tries to protect certain sectors such as hospitality and travel which are still struggling from the impacts of the pandemic. For them, the pay rise will be delayed until October.
Yet there is still a hidden danger in the big increase in the minimum wage because it is likely to encourage wage rises across the board and perhaps push up prices further. When lower paid workers are given a pay rise, higher paid workers with more bargaining power want the same or more. Businesses will try to pass on their higher costs.
The Reserve Bank of Australia, which has the job of bringing inflation back down, will be more likely to raise interest rates as a result of the commission's decision.
The pain will only grow more intense. In a rare television interview on Tuesday, RBA governor Phil Lowe warned inflation could hit 7 per cent and he wants to raise official interest rates to at least 2.5 per cent compared to the current rate of 0.85 per cent.
The inflation shock is unavoidable and difficult times are ahead but at least the most vulnerable have been given some protection by the Fair Work Commission.
Gay Alcorn sends a newsletter to subscribers each week. Sign up to receive her Note from the Editor.
Most Viewed in Business
From our partners
Source: Read Full Article