For our free coronavirus pandemic coverage, learn more here.
Before the pandemic, T.J. "Tiny" Good employed 80 people at his company Showtech, providing rigging and lighting for shows by international touring acts, ballet, opera and even high school musicals.
Now there are eight of the crew left, no one can say when they or the rest of the event sector will return to work and federal income support and business payments will be gone within weeks.
"Tiny" Good, of Showtech Australia, does not expect the events industry to be back in business for several months.Credit:Joe Armao
The industry, worth $12 billion annually to the state's economy, is pleading with the state government for a plan to get back in business, but Victoria's road map to reopening offers little clarity, beyond the possibility of "state significant" events, such as the Boxing Day Test and the Australian Open proceeding.
The Queenscliff Music Festival, scheduled for late November, is the latest spring/summer event to cancel, with organisers blaming the lack of an official Victorian public events framework or access to cancellation insurance for their decision.
The festival's cancellation follows the postponement, for the second year running, of the Amy Gillett Foundation's Gran Fondo cycling event on the Great Ocean Road, which was to be held in late October. The industry group says that without urgent help, 2022 will be grim year for community and charitable events and big commercial operations.
Save Victorian Events, a pressure group established during lockdown, says news that business support payments and COVID-19 disaster payments to stood-down workers were coming to an end caused panic in the battered industry.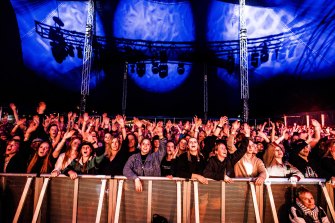 A crowd at the Queenscliff Music Festival in happier times.Credit:Photo: Lucinda Goodwin
Mr Good, whose client list includes the Arts Centre, the Melbourne Theatre Company, the Australian Ballet, Federation Square and Olympic Park, said after the lockdowns of the past 18 months, the financial resilience of Showtech was almost exhausted.
"We don't anticipate a significant amount of our work to actually start up again until February next year, and they're telling us that disaster payments will finish sometime in October," Mr Good told The Age.
"There's not a lot left in the bank. We've still had to pay rent, leases, shortfall of wages from JobKeeper.
"The little bit of work we did get, we had to pay super, insurance, licensing fees and government fees for planning permits. Just because the work stops doesn't mean the bills stop."
Mr Good, who has clocked-up 14 weeks in isolation after crossing state borders pursuing events work, said the state government's road map made reopening for events before Christmas less likely.
"I'd love to know what event [the government] thinks is going to open under the guidelines this side of Christmas because you won't have indoor concerts, exhibitions, or large-scale business meetings."
"So if by events they mean sporting events, then they need to get their heads read."
Simon Thewlis, from Save Victorian Events, published a plan for an "events led recovery", calling for a $300 million plan he says could drag the sector from the brink, if the state government urgently adopted some or all of its recommendations.
"There is an urgent need to make this happen," he said.
"If the Victorian government doesn't act very quickly there will be very few events happening in Victoria until well into 2022," Mr Thewlis said.
A spokesman Victorian Minister of Tourism and Major Events Martin Pakula said big "state significant events" could apply for exemptions to crowd restrictions imposed under phase D on the road map, and a plan for the rest of the sector would be delivered in "due course".
"Organisers of events held at state significant venues will be able to apply for crowds above limits set out in the road map in phase C, with Public Health to make the final decision," the spokesman said.
The arrangements for events in phase D are still to be determined.
Stay across the most crucial developments related to the pandemic with the Coronavirus Update. Sign up for the weekly newsletter.
Most Viewed in Business
From our partners
Source: Read Full Article