Save articles for later
Add articles to your saved list and come back to them any time.
New data from Australia's largest lender shows the average first home buyer deposit rose by almost 50 per cent from $108,400 at the start of 2020 to $159,000 in the first few months of this year, with the rise likely attributed to an increase in parents helping out their children.
The average gross household income for first home buyers with the bank in early 2023 was about $117,000 and the average purchase price was just under $629,000.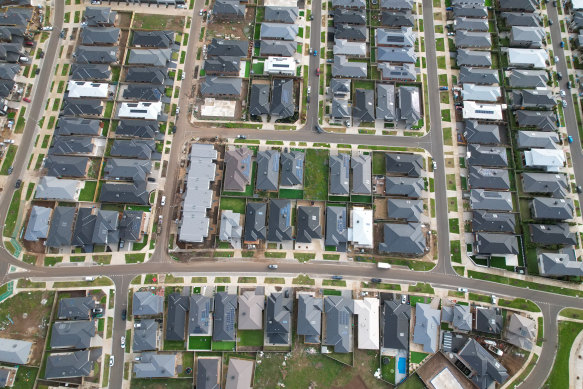 While more parents are likely helping their children get their first homes, those who are not so lucky risk remaining renters for life.Credit: Jason South
Louis Christopher, the founder of SQM Research, says: "The average first-home buyer, even a couple, on the average household income, would likely take up to ten years to save a $159,000 deposit," he says.
He says it is very likely that parents are helping out their children.
The figures are from a report by the National Housing Finance and Investment Corporation (NHFIC) with the Commonwealth Bank. The bank's figures are national and it was unable to provide the corresponding figures for Sydney and Melbourne.
Christopher suspects the size of first-home buyer deposits would be much higher in the two cities, where salaries and house prices are higher.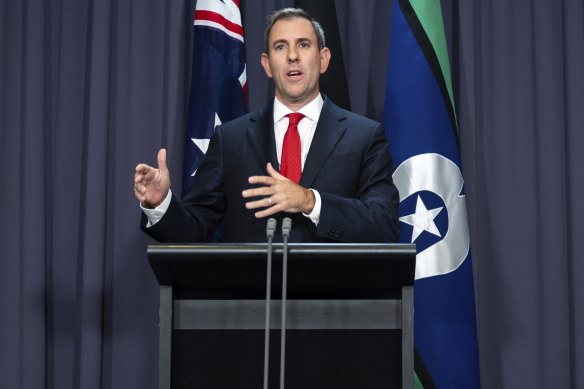 Treasurer Jim Chalmers delivered the intergenerational report last week.Credit: Alex Ellinghausen
It leaves those who do not have parents with the financial capacity and who are willing to help out, taking longer to save or being left out of the housing market.
The Intergenerational Report released by Treasurer Jim Chalmers last week, says the decline in home ownership has been most significant among younger age groups.
"Home ownership fell by 18 percentage points from 1981 to 2021 for those aged between 30 and 34, and 17 percentage points for those aged 25 to 29," the report says.
Richard Whitten, home loans expert at comparison website Finder, says many first-home buyers cannot afford to save such large deposits.
"Wage growth over the past few decades simply hasn't kept up with skyrocketing property prices," Whitten says.
Saving a deposit is a big barrier to getting a start on the housing market, particularly with the costs of almost everything, including rents, going up, he says.
A survey of first home buyers by Finder conducted in July this year found 11 per cent saying they had received financial help for the deposit. Of those, the average help, per person, was just over $56,000.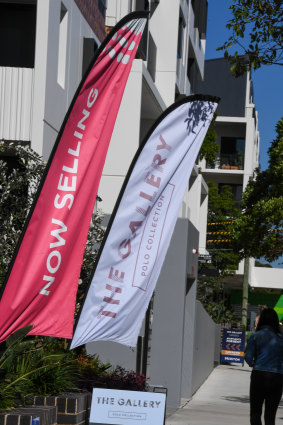 Experts say the Sydney property market remains a nightmare.Credit: Domain
A further 9 per cent said their parents went guarantor for their home loan and a further 12 per cent said they had received financial assistance from their parents in other ways.
Andrew Wilson, chief economist at My Housing Market, says property prices are rising, and Sydney prices could rise 10 per cent this year, though not quite as much in Melbourne.
The rental market remains a "horror story" and it gets to the point where parents, who have the financial capacity, think they need to help out, he says.
There are places available in the federal government's low deposit schemes, at least for those they meet the salary limits for and the caps on purchase prices, which vary depending on the location of the property.
The National Housing Finance and Investment Corporation administers three low-deposit home purchase guarantees through which qualifying home buyers pay a deposit of only 5 per cent, or 2 per cent, depending on the guarantee.
Applications for guarantees are made directly with participating lenders, or through mortgage brokers.
Advice given in this article is general in nature and is not intended to influence readers' decisions about investing or financial products. They should always seek their own professional advice that takes into account their own personal circumstances before making any financial decisions.
Expert tips on how to save, invest and make the most of your money delivered to your inbox every Sunday. Sign up here for our Real Money newsletter.
Most Viewed in Money
From our partners
Source: Read Full Article