The world's biggest fund manager, BlackRock, has selected Australia for the rollout of its largest investment in grid-scale batteries that will be crucial to driving the shift from coal to clean energy.
BlackRock, which manages $US10 trillion ($14 trillion), will announce on Tuesday it intends to commit $1 billion for nine battery-storage projects spanning the nation's east-coast electricity grid after agreeing to acquire Melbourne-based battery developer Akaysha Energy.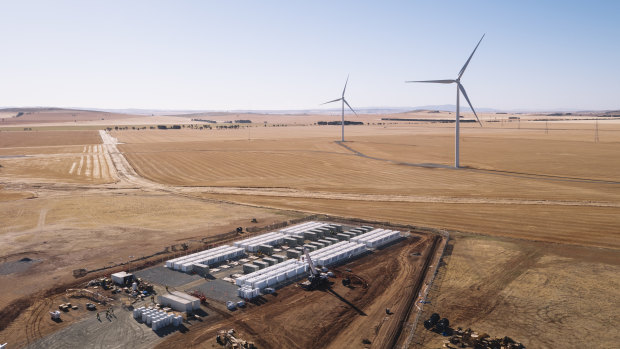 The Hornsdale Power Reservation in South Australia, where tech firm Tesla has installed a huge battery.
The commitment marks the American behemoth's first investment in deploying battery storage projects in the Asia-Pacific region, and its most significant investment in batteries globally.
"This is the largest investment BlackRock has made into battery storage by some margin," BlackRock Asia-Pacific's co-head of climate infrastructure, Charlie Reid, said.
In an interview before the official announcement, Reid said BlackRock had selected Australia because it was experiencing many challenges of the transition from fossil fuels to renewable energy much sooner than other countries.
"That's creating this fundamental need for battery storage, which, in some other markets, hasn't arrived yet," he said.
"For Australia to become a renewable energy superpower, battery storage is going to be required at vast scale."
While coal-fired electricity still accounts for most of the nation's power supply, the influx of cheaper-to-run renewable energy has been undercutting its economic viability, leading to power suppliers Origin Energy and EnergyAustralia bringing forward the closures of some of Australia's largest generators.
As the transition gathers speed, authorities say big batteries must play an increasingly significant role in stabilising power supplies and keeping a lid on volatile prices because of their ability to store renewable energy when it's abundant and dispatch when it's not sunny or windy.
The Albanese government has set a target for the grid to be 82 per cent powered by clean energy by 2030. The Australian Energy Market Operator (AEMO) expects 60 per cent of the eastern seaboard's coal fleet could exit the grid by that time, requiring a massive increase in spending on projects such as grid-scale batteries to provide back-up for renewable energy.
Established in 2021, Akaysha has nine battery storage projects in NSW, Victoria, Queensland, South Australia and Tasmania. Its most advanced is the 150-megatt Ulinda Park battery at Queensland's Western Downs substation, which will have two hours of storage duration. Another is the 200-megawatt, four-hour Orana battery near Wellington in central-west NSW.
Akaysha managing director Nick Carter said BlackRock's involvement and access to capital would be vital to fast-tracking its nine east-coast projects.
"Akaysha and BlackRock both appreciate that there is a window in time now, leading up to these coal closures in the next five or six years, to get moving," Carter said "So we are trying to accelerate that pipeline as quickly as we can."
BlackRock said it had identified Akaysha as its ideal "platform" for energy storage projects in the rapidly evolving energy market in Australia and the wider region.
"Australia is becoming a key market for renewables, batteries and net-zero technologies globally," Reid said. "It's a very interesting point in time for the Australian market and the Asia-Pacific market."
Akaysha is one of a growing number of Australian energy companies targeting plans to roll out more big batteries in coming years, including many of the nation's largest utilities. Origin Energy has ambitious plans to build a 700-megawatt battery at its Eraring coal-fired power station in NSW, which would be the nation's largest, while AGL is seeking to roll out 1000 megawatts of batteries across several sites. France's Neoen has built two of the biggest batteries in the country – the Victoria Big Battery near Geelong, and South Australia's Hornsdale Power Reserve, known as the "Tesla Big Battery".
The Business Briefing newsletter delivers major stories, exclusive coverage and expert opinion. Sign up to get it every weekday morning.
Most Viewed in Business
From our partners
Source: Read Full Article