The Zee saga will see a long-drawn-out court battle before shareholders get any chance to vote on any proposal by the management or Invesco, says Prosenjit Datta.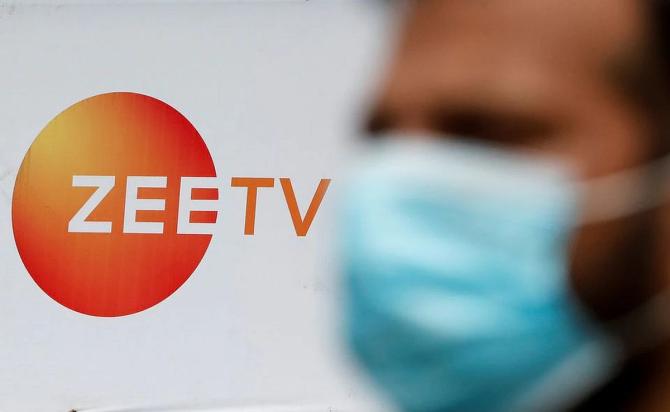 It is abundantly clear that Invesco, the largest shareholder in Zee Entertainment with about 18 per cent shares, and the Goenka family, who are the promoters but now have less than 5 per cent shareholding left, will fight it out to the bitter end.
Invesco wants an extraordinary general meeting (EGM) to be held so that it can have its own directors on the board and also remove Punit Goenka, the managing director and chief executive officer.
The current board seems to be backing Mr Goenka firmly and has refused to call for an EGM.
One can see a protracted legal battle ahead.
Founders and promoters rarely want to let go of control over what they often see as "their" company, especially if they are also the management.
In many countries, founders have used dual class shares to have higher voting rights, and hence control.
This was not possible in India till 2000, when the market regulator, the Securities and Exchange Board of India (Sebi), permitted companies to issue shares with differential voting rights (DVR).
In the Zee Entertainment case however, there are no DVRs and hence it should have been a straightforward battle. Except that it isn't.
Historically, promoters with low shareholding in India have often managed to retain control with the help of a sympathetic board, or the backing of politicians.
In 1982, Swaraj Paul tried to take over Escorts and DCM but eventually had to back away, though promoters of both firms had relatively low shareholding.
For a long time in India, promoters or founders would only be ejected because of family coups.
This happened both in the case of Ranbaxy, where Parvinder Singh ousted his father Bhai Mohan Singh, and Apollo Tyres, where Neeraj Kunwar managed to win against Raunaq Singh.
Even earlier, there was the case of Nusli Wadia who successfully managed to take control of the group companies when his father Neville Wadia wanted to sell them.
It used to be much harder to oust promoters in India earlier primarily because they often received the support of institutional shareholders who were mostly public sector units and public sector banks, and tended to remain passive investors.
Things are changing because private institutional investors and fund managers, both global and Indian, are more assertive.
But it is still far from easy to dislodge a promoter from management.
Of course, many promoters have increased their skin in the game by increasing their shareholdings so that they are less vulnerable to takeover threats.
The conglomerates that have done so include the venerable Tata group, where the holding company Tata Sons has systematically raised its stake in group companies.
But big professional investors are also demanding more say in companies where they have put in big bucks.
This has been seen in unlisted new age start-ups where venture capital giants have provided most of the funding as well as in listed companies where private equity players have taken a significant stake or even at companies with strategic partners.
Even iconic founders such as the Bansals of Flipkart had to cede control eventually to the investors.
Among listed companies, Vijay Mallya eventually lost control of all his companies when his shareholding dipped and he could not repay loans he had taken for Kingfisher.
In Mindtree, the erstwhile founders tried hard to prevent their biggest shareholder, the late V G Siddhartha, from selling his stake to L&T without success.
None of them are exact parallels of the current case.
Invesco is a professional investor and typically does not take over managements.
And the Goenkas have built Zee Entertainment from the ground up.
There are plenty of people, including industrialist Harsh Goenka, who think Punit Goenka is doing a good job.
But that is not the point.
Invesco has seen hardly any returns since its investment.
Since March 2019, the Zee stock has been drifting downwards and it did not go up even during the bull run which started in mid-2020.
Punit Goenka may have run Zee Entertainment competently but the stock prices shot up when Invesco initially decided to press for an EGM to oust the management.
When the proposed merger with Sony was announced, it moved up further.
In the proposed merger with Sony Pictures, the Goenka family seems to have a sweeter deal than other shareholders.
Zee is the bigger company but will have a smaller shareholding after the merger, according to the proposal.
Invesco will see its shareholding come down to half or less in the merged entity.
On the other hand, the Goenka family not only gets to retain its 4 per cent in the merged entity, the same that they do in Zee Entertainment currently, but Punit Goenka also gets to remain MD.
The Goenka family also gets the right to increase their shareholding to 20 per cent over a certain period of time.
The Invesco vs the Goenkas saga will see a long-drawn-out court battle before shareholders get any chance to vote on any proposal by the management or Invesco.
But whichever way it finally ends, it will provide a clear signal to big shareholders who want to oust promoters in whom they have lost confidence.
It will also clearly indicate whether Sebi needs to tweak the regulations to better protect the rights of non-promoter shareholders who have a large stake in the company.
Prosenjit Datta is former editor of Business Today and Businessworld and founder and editor of Prosaicview, an editorial consultancy.
Photograph: Francis Mascarenhas/Reuters
Source: Read Full Article