Increasing demand for luxe housing, accommodative state policies and decadal-low home loan rates could be some of the triggers.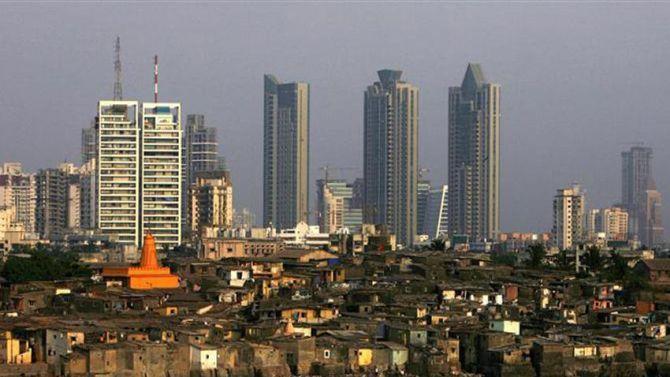 Some of the country's largest listed real estate developers — DLF, Prestige Estates, and Puravankara — are foraying into the Rs 50,000-crore residential property market of Mumbai, where home prices are among the highest in the world.
All of them are set to launch residential projects in the financial capital of the country, where the market is dominated by players such as Runwal, Lodha, and Oberoi Realty, among others.
Leading the race is Prestige, which has lined up 6 million square feet (msf) of new launches in the city across Mulund and Byculla in the third quarter of this financial year (2021-22).
The company is in the final stage of getting approvals.
Prestige is planning a project in Mulund after it acquired the bankrupt real estate company, Aristo, through a resolution plan in the corporate insolvency resolution process.
DLF, the largest developer in the country, is also finalising plans to launch a high-end residential project in the Tulsiwadi area of Mumbai.
The plot has the potential to house 1 msf of residential space.
"We are looking to monetise Tulsiwadi and we feel now is the right time to take it to the market," the company's management said recently in an analyst call.
According to sources, DLF could tie up with local players to launch the project by the end of the year.
The company bought a 17-acre mill land in Worli for Rs 703 crore from the National Textile Corporation in 2005, but later sold it for Rs 2,700 crore to Lodha Group in 2012.
DLF's initial plan was to build a high-end residential project on the plot.
Subsequently, it decided to build an upmarket mall-centric commercial project there, but later it sold the plot to Lodha Group.
Puravankara is another big-ticket real estate developer returning to the Mumbai market after three decades.
The Bengaluru-based company recently launched Purva Clermont, a project in the Chembur area, which is part of its ultra-luxury WorldHome Collection.
Ashish R Puravankara, managing director (MD), Puravankara, said it has made significant investments, with an expected top-line revenue of Rs 800-900 crore.
Puravankara's Mumbai project will see four towers, with 233 residential units and one tower of 79 commercial units, he said.
"The increasing demand for luxury housing projects and accommodative state policies like reduced stamp duties and the amended Unified Development Control and Promotion Regulations, make it an ideal time to foray into the market.
"Additionally, the decadal-low home loan rates have kept consumer sentiment buoyant in the sector," said Puravankara.
The company has lined up two more residential projects in Mumbai and Pune under its affordable housing brand, Provident Housing.
The projects, with a total space of 3 msf, will be equipped with superior infrastructure, high-end amenities, and cater to the aspirations of first-time and mid-income segment homebuyers, added Puravankara.
The entry of DLF, Prestige et al into the Mumbai real estate arena comes at a time when existing players, such as Godrej Properties and Oberoi Realty, have been scaling up their operations in the city.
Not happy with its sales performance, Godrej Realty is planning to launch a slew of premium and mid-income housing projects in Mumbai.
"The increase in the overall share of organised players and their entry into Mumbai is due to consolidation in the sector.
"I believe it will lead to healthier competition, with higher benchmarks of governance and also lead to cross-learnings of markets, design, local preferences, regulatory reforms, and smarter construction solutions," said Sanjay Dutt, MD and chief executive of Tata Realty and Infrastructure.
Anuj Puri, chairman of Anarock Property Consultants, said Mumbai has proved to be one of the most fertile housing markets since the advent of the pandemic.
"It has surpassed most other cities in terms of sales. Even the lapsing of the stamp duty cut has not dampened demand.
"The demand for right-priced properties in this land-locked city is huge.
"This makes it a perfect venue for the expansion plans of national developers," said Puri.
Puri said the entry of big developers will coincide with multiple infrastructure upgrades in the region, which means their entry here is extremely well-timed.
However, with more and more land parcels being opened up and the growing presence of national-level players, property prices may not see any major upward pressures in the short and midterm, he added.
"Any price growth we see could be more due to the inflationary costs of raw materials, which developers will pass on to homebuyers," added Puri.
Prestige has lined up 6 million square feet (msf) of new launches across Mulund and Byculla in the third quarter of 2021-22
Is planning a project in Mulund after it acquired the bankrupt real estate company, Aristo, through a resolution plan in the corporate insolvency resolution process
DLF also finalising plans to launch a high-end residential project in the Tulsiwadi area. The plot has the potential to house 1 msf of residential space
Could tie up with local players to launch the project by the end of the year
Puravankara recently launched Purva Clermont in Chembur — this is part of its ultra-luxury WorldHome Collection
Photograph: Arko Datta/Reuters
Source: Read Full Article