The price of bitcoin, the bestselling cryptocurrency, has shrunk nearly three times this year to mark the fate of such digital assets.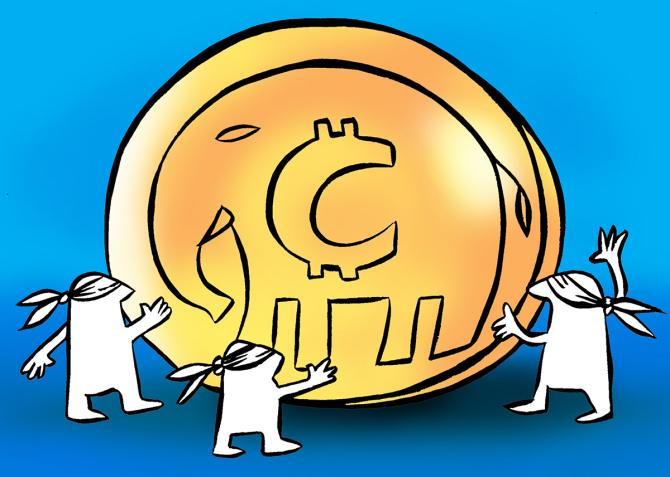 Crashing prices, regulatory uncertainty and taxes have put Indian crypto exchanges in troubled waters.
Finance Minister Nirmala Sitharaman's budget for FY23 announced a 30 per cent tax on any income from the transfer of virtual digital assets.
An additional one per cent tax deducted at source (TDS) came into effect in July.
The government clarified that by levying taxes it was not making cryptocurrencies legal: an announcement complicating the worry of exchanges.
The Reserve Bank of India (RBI) has maintained its tough stance on private cryptos, calling for their prohibition.
"If you try to regulate it and allow it to grow, please mark my words, the next financial crisis will come from private cryptocurrencies," RBI governor Shaktikanta Das recently said at the 'Business Standard' BFSI Summit.
In May, the fall of stablecoins TerraUSD and LUNA shook exchanges and pulled down prices of all major cryptos.
Giant exchanges like BlockFi, FTX, and FTX.US started facing financial difficulties and insolvencies after that.
'A year to forget'
Indian exchanges are feeling the heat from these events alongside the impact of the Enforcement Directorate (ED) raiding some such businesses in the country.
"2022 was a year to forget for Indian crypto exchanges.
"We have to deal with the tax laws announced in the budget.
"Trading volume has collapsed across all Indian exchanges.
"There has also been a lot of Fear, Uncertainty, and Doubt (FUD) around other major global crypto exchanges," said Rajagopal Menon, vice president of WazirX cryptocurrency exchange.
WazirX did transactions worth around $10 billion in 2022, down from $46 billion in the previous year.
Menon said the one per cent TDS has driven out all volumes from India to exchanges abroad.
"Indians love crypto; a Chainanalysis report last year noted that India was one of the fastest-growing crypto countries in the world.
"The sentiment is indeed negative in crypto, but most Indians have voted with their feet and are now transacting in foreign exchanges," he said.
Menon said WazirX will stick to its primary business of crypto trading, despite adversities.
"WazirX's mission is to make crypto accessible to every single Indian.
"We are single-minded about that mission, so we will not be dabbling in Mutual funds and FDs for other financial markets."
FTX collapse shock
In November, cryptocurrency exchange FTX collapsed over 10 days.
According to an industry news website, Bitcoin, Ethereum, and stablecoin owners removed roughly $19.19 billion in crypto assets from centralised exchanges in just 50 days of FTX's collapse on November 5.
Nearly 356,848 Bitcoin and 4.48 million Ethereum tokens have been withdrawn since then from crypto trading platforms worldwide.
"The turbulence of the past few months is caused by the poor business practices and risk management by the concerned exchange, and not a reflection of the long-term arc of crypto.
"The long-term outlook of crypto, therefore, remains unchanged," said Ashish Singhal, co-founder and chief executive officer (CEO) of CoinSwitch cryptocurrency exchange.
CoinSwitch recently announced a diversification of its solutions to add seven new offerings like fixed deposits, bonds, exchange-traded funds (ETFs), stocks, and mutual funds.
"We are in the process of expanding our overall wealth tech offerings to help users diversify their portfolio on our platform—a preferred destination for all investment needs.
"CoinSwitch will always be a Crypto-first wealth platform.
"Our mission is to make money equal for all.
"We started with Crypto, as we believed it was the most underserved," Singhal said.
vCoinSwitch did not give its volume of trading for the year.
It said the number of registered users grew to 19 million as of November 2022.
Singhal said users continue to build their crypto portfolio in a bear market and held onto their investments.
"That said, 2022 has had its share of economic, geopolitical, and market difficulties.
"We continue to work with various stakeholders to bring more regulatory clarity over crypto.
"Recent developments in offshore exchanges like FTX are a reminder that India should address any such gaps that would expose users to gaps in oversight," he said.
According to a recent study by CoinSwitch, Gen Z users in India accounted for the highest crypto investments (45 per cent share of total) and they were followed by millennials (34 per cent) aged 26 to 35.
The study said among cryptocurrencies, Bitcoin rules with 12.12 per cent share, followed by Dogecoin (11.54 per cent), Ethereum (9.43 per cent), Shiba Inu (6.92 per cent) and Polygon (4.13 per cent).
Source: Read Full Article