Calendar year 2023 (CY23) has thus far proved to be a good year for select information technology stocks. In the US, for instance, the tech-heavy NASDAQ has rallied nearly 18 per cent thus far in CY23, and has outrun peers such as the Dow Jones Industrial Average (DJIA) and the S&P 500.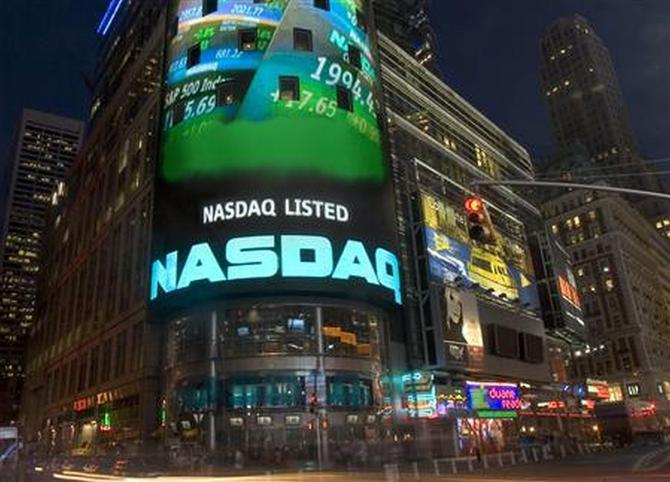 Back home, the Nifty IT index – a gauge of the performance of the IT stocks on the National Stock Exchange (NSE) that has closely mirrored the performance of NASDAQ over the past few years – has lost nearly 2 per cent in CY23.
So, has the correlation between the NASDAQ and the Nifty IT index ended, and will they both now go their own separate ways going ahead?
Nifty IT vs Nasdaq performance in CY23Nifty IT vs Nasdaq performance in CY23
Technically, the Nifty IT index, said Ajit Mishra, vice-president for technical research at Religare Broking, was trading in sync with the Nasdaq Composite till recently, but the correlation is not working now.
"We feel it is too early to say that IT could outperform the market or lead the index to a newer high until we see some decisive sign of reversal.
"The first sign could be a decisive close above the 29,000 mark and reversal confirmation above the 31,600 zone.
"Meanwhile, participants should maintain a selective approach and accumulate IT stocks gradually only from a medium-to-long term perspective," Mishra said.
The gain in NASDAQ thus far in CY23 was largely fueled by an up move in Google, Apple, Amazon, Netflix and Meta Platforms – also known as the FAANG stocks – that surged up to 41 per cent thus far in CY23.
They have a combined weightage of around 30 per cent in the NASDAQ index.
The performance of stocks that comprise the Nifty IT index, however, has been polarised in CY23.
While Persistent Systems, LTI Mindtree, Coforge, HCL Technologies, L&T Technology Services and Tech Mahindra have gained between 4 – 22 per cent thus far in CY23, Infosys, MphasiS and Wipro have been laggards, falling up to 16 per cent during this period, ACE Equity data shows.
Fears of recession, analysts said, are likely to keep a lid on IT spending by companies in India and abroad going ahead, which in turn is likely to dent the fortunes of IT companies in the quarters ahead.
"A relief rally in IT stocks was driven by lower employee costs post the December 2022 quarter.
"That said, I do not see the rally lasting for too long as the remaining part of CY23 will be painful for these companies in the backdrop of recession fears as BFSI companies, which contribute 32 – 33 per cent of IT firm's revenues, cut costs.
"There will be a slowdown in the overall demand. We have a 'sell' call on most of these stocks," said G Chokkalingam, founder and head of research at Equinomics Research & Advisory.
Earnings watch
The March 2023 quarter earnings of IT companies, according to analysts at Kotak Institutional Equities (KIE), saw a broad-based slowdown, which was led by business coming from banking & financial services (BFSI) and communications business segments.
That apart, lower business from North America also had an impact.
Except Infosys, the June 2023 quarter, KIE said, could be weaker than the March quarter for many companies.
This, they attribute to the weakness to project pauses and cancellations in North America and select verticals such as BFSI and communications.
"After a 7 – 20 per cent correction in stock prices (in 2022), valuations are reasonable for select companies.
Of course, these valuations assume 3 – 4 per cent growth acceleration and some level of margin expansion in FY2025E.
We believe there are reasonable upsides in Infosys and HCLT.
"Infosys did have a bad March quarter and could have handled expectations better. Nonetheless, the fundamental underpinnings of the business, i.e., of Infosys, are extremely strong," wrote Kawaljeet Saluja, Sathishkumar S and Vamshi Krishna at KIE in a recent note.
Source: Read Full Article