After a stellar November that saw companies mop up over Rs 36,000 crore from the primary market via initial public offers (IPOs) and offers for sale (OFS), the current month, analysts said, will test investor's willingness to stay on with their investments as the one-month mandatory lock-in period for anchor investors begins to loosen.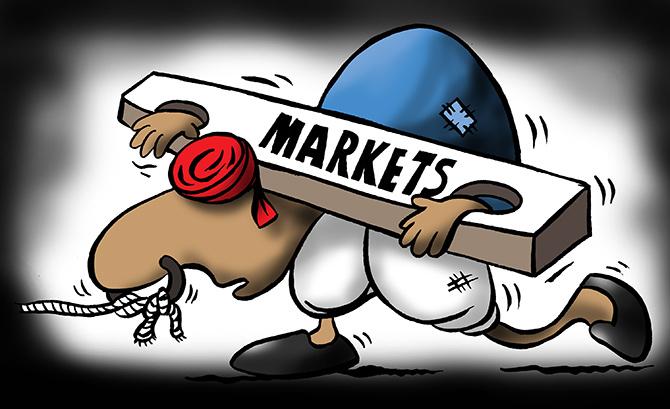 A note by Edelweiss Alternative Research suggests that in calendar year 2021 (CY21), 51 companies went public.
Of these, 41 issuances' anchor selling dates are already over.
As many as 76 per cent of those issuances have experienced selling pressure on the anchor lock-in opening dates, and the average decline has been 2.6 per cent.
From December 8, Edelweiss said there are ten issuances where the anchor lock-in is set to unravel, including FSN E-Commerce Ventures (Nykaa), FINO Payments Bank, Latent View Analytics, PB Fintech and One 97 Communications (Paytm).
"It is a very strong possibility that the anchor investors will sell.
"They have already made money on their investments and will not be willing to hold on for too long.
"The secondary market is going through a volatile phase and it makes sense for anchor investors to exit positions where they are still in profit.
"The dip in stock price in some cases where the company is yet to turn profitable can be in double-digit over a period of time.
"That said, one cannot paint the entire lot with the same brush," explained G Chokkalingam, founder and chief investment officer at Equinomics Research.
Among the lot, shares of FSN E-Commerce Ventures (Nykaa) slipped 2.55 per cent at Rs 2,135 on the BSE ahead of the lock-in period of anchor investors getting over.
The stock of fashion and cosmetics online retailer traded lower for fourth straight day, falling 14 per cent during this period.
"In most cases, selling pressure persists over the day after anchor lock-in opening date; as many as 61 per cent (25 out of 41) of the issues declined by 2.2 per cent on the day after the anchor opening date.
"And after five days of the anchor opening date, 61 per cent of issues traded 3.9 per cent lower," wrote Abhilash Pagaria of Edelweiss Alternative Research in the note.
Most stocks wherein anchor allocation made up a larger mix of outstanding shares, selling pressure has been higher near the anchor lock-in opening date, Edelweiss said.
10 out of 13 such newly-listed stocks have closed in red with an average decline of 3 per cent (on anchor opening date) wherein anchor allocations were above 10 per cent of outstanding shares.
Recently, RateGain Travel Technologies said that it has allotted 14,090,136 equity shares to 34 anchor investors that include Government of Singapore, Nomura India Investment Fund Mother Fund, Goldman Sachs Funds, Pinebridge Global Funds, SBI Life Insurance, HSBC Small Cap Equity Fund, and Nippon Life India.
The company has raised Rs 598.83 crore in the process.
Source: Read Full Article