It may be a little early to cheer the recovery in the fast-moving consumer goods (FMCG) space as a deceleration in discretionary demand, after the festival season, may offset fragile rural recovery, analysts have cautioned.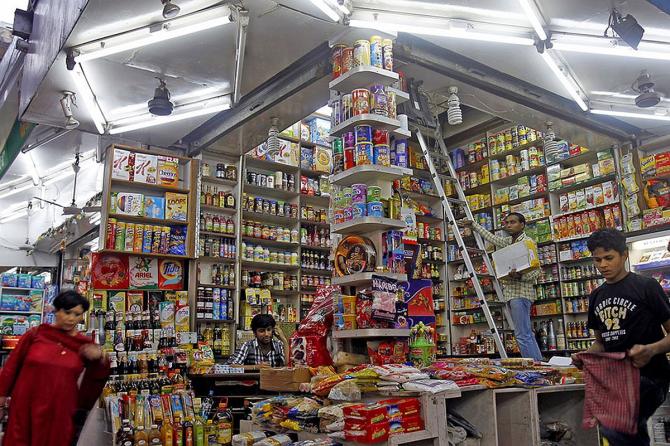 "The overall demand environment for staples remains muted, while discretionary demand trends have seen some deceleration after the festival season.
"We believe margins in staples have bottomed out, but we expect only a gradual uptick with the ongoing softening in raw material prices.
"This is because companies have begun to effect price cuts to protect market share against unorganised players, and will also need to increase marketing spends, which have been low for the past few years," said Himanshu Nayyar of Systematix Research, in a note co-authored with Rajesh Mudaliar and Chetan Mahadik.
Consumer staples demand in rural areas witnessed sequential recovery in the latter half of the October-December quarter (third quarter, or Q3), with raw material cost pressures abating, price cuts announced by companies, and inflation receding.
Besides, wage growth overtook inflation, the unemployment rate dropped, and sowing and tractor sales reveal strong trends.
Abneesh Roy of Nuvama Institutional Equities, however, points out that although the overall monsoon was good, the headline data hides the deficit in four high-population states of Bihar, Uttar Pradesh, Bengal, and Jharkhand.
"Modest growth in rural markets is almost entirely due to the base effect as rural slowdown started in the second half of 2021-22.
"The lower end of the rural job market seems to be improving, but these are early days and sustainability is needed," he said in a report from Rushabh Bhachawat and Jainam Gosar.
According to data by retail intelligence firm Bizom, demand from rural areas declined 0.2 per cent on a month-on-month basis in December, while it was down 17 per cent in November.
The overall demand, however, was up 1.4 per cent on a month-on-month basis.
In their quarterly update, Godrej Consumer Products, Dabur, and Marico unanimously witnessed sluggish growth in Q3, driven by poor rural consumption and slowdown after the festival season.
Dabur India said overall demand remained weak because rural markets remained under pressure.
Besides, the late onset of winter in North India had added to the weakness, it said.
Discretionary demand heads south
Discretionary demand, too, has seen some deceleration after the festival season as inflation began to impact demand at the mass end of the market.
Quick service restaurant (QSR) players saw slowdown in growth, with aggregators focusing on higher order values and lowering discounts.
Kotak Institutional Equities (KIE) expects Asian Paints to witness a deceleration in the three-year volume (ex-putty) compound annual growth rate (CAGR) to 8 per cent (similar to the pre-pandemic levels) in Q3 versus 11 per cent in the first half of 2022-23.
"We expect weakness across QSRs (except Westlife Development) with a flat or sequential dip in average daily sales.
"Jubilant FoodWorks' three-year revenue CAGR should moderate further to 8.4 per cent, from 9-10 per cent and margin pressure should rise.
"Devyani International, Sapphire Foods India, and Restaurant Brands Asia should report a weak revenue and earnings before interest, tax, depreciation, and amortisation print," it said.
Investment strategy
Analysts suggest investors selectively pick FMCG stocks from a medium- to long-term perspective and focus on how the companies deal with ease in input costs.
Preeyam Tolia, senior research analyst at Axis Securities, is bullish on Hindustan Unilever (HUL) and Dabur India as he believes domestically-inclined FMCG companies will do relatively better.
KIE has a 'reduce' rating on Asian Paints, Berger Paints, and Devyani International, and has an 'add' rating on Britannia Industries, Colgate-Palmolive, HUL, ITC, and Jubilant FoodWorks.
On the bourses, the Nifty FMCG Index has underperformed the benchmark Nifty50 over the past three months.
ACE Equity data shows that the FMCG index has gained 2.2 per cent during the period, against the Nifty50 Index's 4.5 per cent rally.
Individually, Britannia Industries, Varun Beverages, Godrej Consumer Products, Nestlé India, and ITC gained between 1 per cent and 15.3 per cent.
Source: Read Full Article